Home >> Special Circumstances >> Camping in Cloth Diapers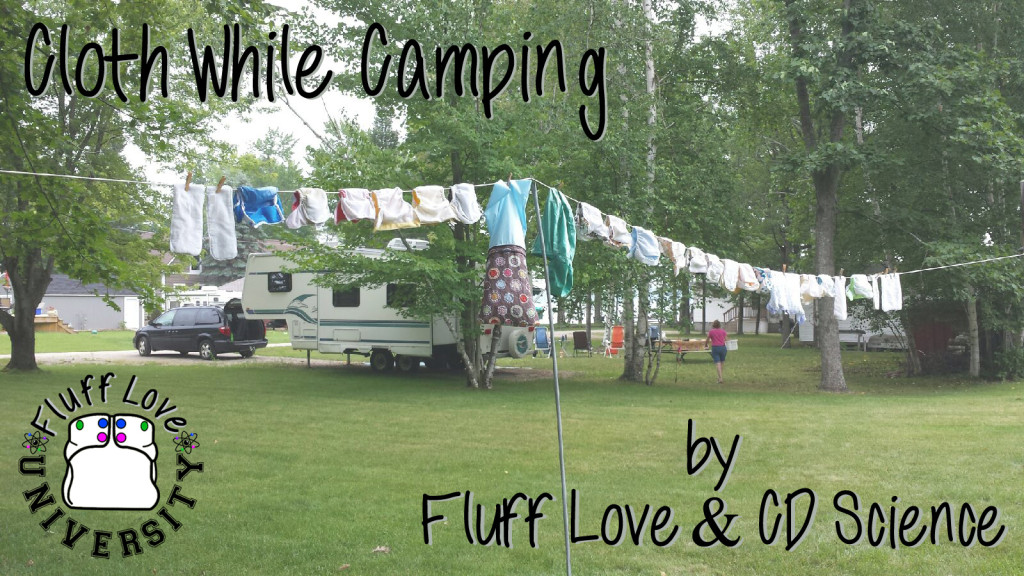 Ah, the fresh smell of mountain air, the stars overhead, the coffee brewing in the percolator over the fire…and a clothesline of flats fluttering dry between the trees. There's nothing like cloth diapering on a camping trip in nature. Of course, there's no shame in taking disposables, and if that makes your vacation trip easier, then go for it. However, it is possible to cloth diaper on a camping trip and live to tell the tale. It just takes a little prep work. Depending on the style of camping you're doing — driving up to a cabin with modern conveniences, or hiking through the backcountry? — you'll need to plan accordingly.
The two big questions to ask are:
1. How long are you going?
The length of your camping trip will answer one critical question: Will you need to wash diapers while you're there? For camping trips of just two or three days, especially if you are driving rather than hiking to the camp site, there's no need to do anything special. Just take your normal diapers, wipes, and dirty diaper storage, and do laundry when you get home. However, for longer trips, you'll have to find a way to wash. Which leads us to the next question…
2. What facilities will you have there?
The available facilities will determine what type of washing setup will be easiest.
Washing machines. Some camp grounds actually have Laundromat facilities on-site. If that's the case, fabulous. Just pack a roll of quarters and some detergent and follow the instructions for laundromat washing. You can bring any type of diaper, like AIOs or pockets and inserts.
Water and toilet facilities. Still pretty good. You can use a camp washer (see below) or Scrubba bag to handwash (flats are easiest), and dispose of the dirty water in the toilet. With electricity and enough space, you could even bring along a countertop portable washer. You might also consider compostable inserts and reusable covers.
Reliable fresh water sources such as streams. Now you're getting to backwoods camping.  If you're car camping, you can still purify the water and wash in a camp washer made from a bucket and plunger. If you're hiking in, a good lightweight option is the Scrubba wash bag. You'll need to be careful how you dispose of dirty wash water, as it contains human fecal matter and soap. Again, compostable inserts are an option here.
No reliable fresh water sources. If you're on a hiking trip where you have to pack in all of your drinking water, odds are you don't want to use your precious (and heavy) water to wash diapers. You might consider using compostable inserts and carrying them out or burying them.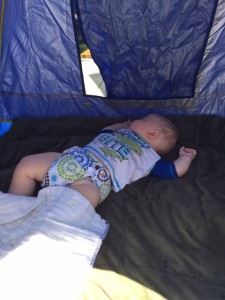 Backwoods and hiking considerations
If you're doing intensive backwoods hiking, here are a few things to bear in mind:
Environmental concerns: If you're the type of person to take your baby on a backwoods hike, you're probably pretty committed to being a good steward of the land and leaving no trace. Both the detergent and the bacteria in cloth diaper laundry can degrade water quality, so make sure to read the sections below on detergent selection and proper discharge of cloth diaper wash water. (Note: In writing recommendations for proper methods of washing cloth diapers in the wilderness, Fluff Love consulted with Dr. Robert Derlet, a Professor Emeritus at UC-Davis and an avid hiker with expertise in water quality).
Hygiene: If you're washing dirty diapers, you're being exposed to potentially harmful bacteria. Use good hygiene, consider wearing latex gloves if you don't have access to hand-washing facilities, and pack a small bottle of hand sanitizer.
Water access and safety: Washing your diapers in contaminated water can be dangerous due to concerns such as E. coli. If your laundry water comes from a stream or lake, make sure to follow water purification options listed below.
Pack weight: Any type of diapers will add weight to the pack — and dirty diapers are heavier than clean ones. Carrying out three days worth of soiled disposable diapers will be smelly and heavy. A scrubba bag, a dozen flats, and three covers are lightweight by comparison.
What type of diapers should you bring camping?
The short answer: Flats.
Flats are just large squares or rectangles of fabric — the typical old fashioned diaper. Though they may sound intimidating, they're actually super versatile and easy to use. You can fold them around the baby, padfold them and lay them in a cover, or use them to stuff pocket diapers. Because flats are so thin, they're the easiest type of diaper to clean, and the fastest to dry. It is also is possible to handwash thicker diapers such as microfiber inserts or prefolds, but flats are most forgiving.
With flats, you'll need to bring along covers. We suggest using tuckable covers, which have flaps to hold a padfolded flat in place. (Padfolding just means folding into a rectangle). You simply lay the padfolded flat into the cover. When the flat gets wet or soiled, you can put in a new flat and reuse the cover, as long as it's not dirty or very wet.
Don't have covers on hand? You can pick up inexpensive but good-quality tuckable covers from stores like Alva for as little as $3.80 each. Alternately, you could use pocket diaper shells and stuff them with flats. This is a little less convenient because you can't reuse the pocket diaper shell, so you need to bring more (at least 8-10 pocket diaper shells daily, as compared to at least 3-4 covers).
Don't have flats on hand? No worries. Receiving blankets actually make great flats. Alternately, you can head to the dish towel section of your nearest big box store and pick up flour sack towels (FSTs), which are just like flats. FSTs are usually about $5 for a five-pack, or $1 each.
Flats are great for overnight, especially when you wrap them around the baby using the kite fold, origami fold, or similar. If you need extra absorbency, you can layer two flats together. Or, you can padfold one and lay it into the wet zone as a booster. If you use wool covers for overnight, bring one along — wool only needs to be washed every two – four weeks.
Covers are very thin and don't generally get very soiled, so they don't need complex wash routines. It's extremely easy to handwash diaper covers in a sink or small basin — just add a little soap and scrub by hand.
Of course, if you're on a short camping trip and won't need to wash until you get home, you can bring whatever diapers you normally use.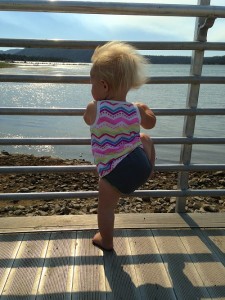 Compostable inserts
Another great middle-ground option is reusable covers with disposable/compostable inserts, such as Flips, Grovia, or G Diaper inserts. You can generally use any brand of disposable insert with any brand of cover. For example, Grovia compostable inserts will fit into Thirsties Covers, and you can pop a gDiaper insert into a Happy Flute cover. If you're using disposable inserts, you don't need to bring along special washing equipment, as you can easily wash the covers by hand in a basin.
How to wash diapers in the wilderness
What wash system should you use?
Option 1: A camp washer
The cheapest and overall simplest option is a camp washer. A camp washer is most commonly made from a clean toilet plunger and a five gallon bucket or large plastic bin. The plunger is pushed up and down to agitate dirty diapers, and the whole process doubles as a great triceps workout. We have instructions on how to build and use a camp washer.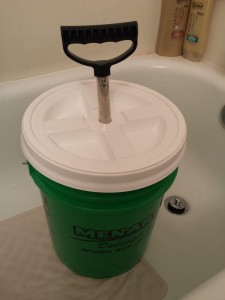 Option 2: A Scrubba bag
We love these new Scrubba bags for handwashing while camping. They're essentially a modern reinvention of an old-fashioned washboard. Lightweight, foldable to pocket size, and easy to use, these are a great option for camping and especially for hiking. At $50, they're a bit of an investment, but if you frequently camp or travel to places without washing machines, it'll be worth it.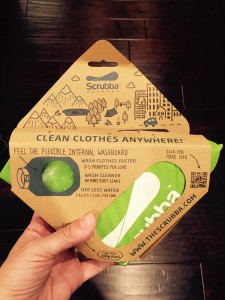 Option 3: A washboard
Yup, some people still love an old fashioned wash board. As long as you have some kind of tub that you can use as a wash basin, it's easy to throw a washboard in with the camping supplies. We have instructions and videos showing how to wash with a washboard.
Option 4: A portable washing machine
If you're car camping and you have access to both water and electricity, you could bring along a small portable electric washing machine, such as a Wonder Washer or Panda Mini, or a hand-cranked machine like the Wonder Wash. This is a great option for extended RV camping, as portable washers require minimal work. Follow the wash instructions and learn more about brand options on the portable washing machine page.
What detergent should you use?
That depends on where you'll be dumping the dirty water. If you're in a campground with modern toilet facilities, you can generally use your normal cloth diaper detergent. However, if you're camping in the backcountry and discharging dirty wash water onto the ground, we recommend using biodegradable soap. In additional to products that you can buy at camping stores such as REI, many plant based detergents such as 7th Generation are marketed as being biodegradable. Remember that biodegradable soap relies on soil to decompose, so diaper laundry should always be discharged into soil.
How can you purify wash water?
If your wash water comes from a stream or lake, we suggest purifying it prior to washing. First, filter out any large sediment. Next, add about 1/2 teaspoon of disinfecting bleach for 5 gallons of water and let sit for 30 minutes (source: Clorox website). Alternately, you can boil the water for one minute, or use store-purchased water purification systems.
Where should you dump the dirty wash water?
This is an extremely important issue. We've seen blogs of campers dumping their dirty diaper wash water on the ground next to the camp site. This is a terrible, horrible, no good, very bad idea. Cloth diaper laundry is black water, full of human fecal matter and urine, no different than dirty toilet water. Before you dump cloth diaper laundry water, ask yourself: would it be okay to defecate here? If the answer is no, then don't dump diaper laundry water there.   This is even more important when you're washing by a stream or river. If you dump diaper laundry water into or near a stream or river, you can compromise water quality. And if hikers use that stream for drinking water, you could be responsible for someone getting very sick. Additionally, the laundry detergent could negatively impact water quality and aquatic wildlife.
The most appropriate place to empty cloth diaper laundry water is into a toilet facility. That may be campground restrooms on a sewer or septic system, or compostable toilets on a hiking trail. If you are doing backcountry hiking and are burying your waste, then dispose of the wastewater well off the hiking trail, and more than 200 feet from the nearest water source. Because biodegradable soaps require soil to decompose, we suggest dumping the water into soil. Digging a small hole or trench is preferable.
Where should you store dirty diapers before you wash them?
Pro-tip: Don't let the bears get them.*
While camping, you can store dirty diapers in a similar way that you store diapers at home — in a pail or hanging wet bag. If you're in a cabin, a typical open pail or laundry basket will work well. However, if you're tent camping, you'll be better off keeping your diaper storage tightly closed to keep the wildlife out. A zippered hanging wet bag is great for this. Alternately, a tightly lidded trash can will work. You could also use a clamped plastic garbage bag.
*We're serious. Don't let the bears get them.
I'm okay with wet diapers, but what about dirty ones? Can I take my sprayer with me?
If the thought of cloth diapers without your trusty diaper sprayer makes you feel a little panicked, we suggest using either liners (disposable or microfleece) or disposable inserts. You can buy disposable liners from cloth diaper stores. Alternately, it's very easy to make liners by cutting microfleece into rectangles about 6″ x 11″. It's pretty easy to get microfleece liners clean by dunking and swishing. Or if you want to make your camping life easy, wash the wet liners and throw away the dirty ones. If you're truly addicted to your sprayer, there are portable options. Or if you'll be staying a few days in a cabin with a modern toilet, there's nothing stopping you from bringing your regular sprayer along and installing it in the there. We don't generally recommend pre-soaking diapers. However, in a camping situation, it may be helpful to soak dirty diapers in a bucket of water for 30 minutes prior to hand-washing.
What about sanitation?
If you wash dirty diapers while camping, there's a good chance you'll get your hands dirty. Make sure you wash your hands well with soap and water after you're done. If you don't have access to good hand-washing facilities, we strongly suggest bringing latex gloves to wear while washing diapers, as well as a small container of hand sanitizer.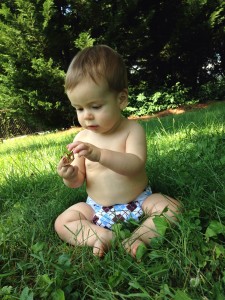 How to dry diapers in the wilderness
The easiest method is to bring nylon rope to make a clothesline. You can tie it between to trees, or improvise with whatever is available — you can even use tent poles. Clothes pins are helpful to make sure your laundry doesn't fly away. After hand-washing, your diapers are likely to be dripping wet. It will speed up the drying process to wring them out before hanging them. If you're bringing a towel along, you can also roll flats up into the towel and squeeze tightly to remove excess moisture. Of course, if it's very hot and sunny, flats will dry pretty quickly even when soaked.
Packing List
Diapers:
Flat diapers (at least 8 – 10 per day)
Compostable inserts (optional)
Diaper covers (at least 3 per day) or pocket diaper shells (at least 8 – 10 per day)
Wool cover for overnight (optional)
Disposable or microfleece diaper liners (recommended)
Changing and storage supplies:
Cloth or disposable wipes
A receiving blanket to use as a changing pad
A place to store dirty diapers, such as a zippered hanging wetbag, garbage bag, or pail
Laundry and drying supplies
Portable or camp washer
Detergent
Portable diaper sprayer (very optional)
Latex gloves and hand sanitizer (if you don't have access to hand washing facilities)
Bleach (if needed for water purification)
Clothesline
Clothespins