Home >> Cloth Around the World >> Cloth Down Under
By Amy White, Nicki Jones, and Shannon Unka
Table of Contents
At Fluff Love we appreciate our international members and look forward to the day when good wash routines are spread across the globe. Australia and New Zealand have large and active cloth nappy cultures so here are some suggestions and product advice for our friends from Down Under.
Stripping
Where to find ingredients
Borax
Bare Essentials Borax 500g – Coles and some Woolworths and Safeway stores.
Glitz Borax 1kg – Bunnings Warehouse in Australia and New Zealand.
Harper's Borax 500g – IGA, Foodworks, Spar (QLD only), Foodland (SA/NT)
Borax bulk bags – Bin Inn and Bulk Barn, NZ. Bulk borax is also available on Trademe.co.nz.
Washing Soda
Lectric Washing Soda – Coles, Woolworths, IGA, Foodworks and Ritchies.
Greenwood Washing Soda Crystals – Countdown (NZ). (Note: soda crystals must be dissolved in hot water before stripping)
Washing Soda bulk bags – Bin Inn, NZ.
Calgon
Calgon isn't available in Australia or New Zealand for domestic purposes.
RLR
RLR can be bought from the USA via Amazon or eBay but international shipping fees are prohibitive. Mighty Bubbles and the DIY mix (with two ingredients) are better options for this region.
Process
Follow the general directions for stripping. Because Calgon is not available in our region, you'll need to use only borax and washing soda for the DIY mix recipe. Use 1/4 cup of each borax and washing soda in 1/2 bathtub of water, and don't forget to add 1/2 cup of good strong detergent, preferably with enzymes. For smaller containers, use  2 teaspoons of each ingredient to every 3.8 litres of water.
For sanitising nappies (after a strip, when buying pre-loved or following a yeast infection), follow the general directions for the bleach soak. For smaller containers use one tablespoon of bleach to 3.8L of water. Please note that when properly cleaned, nappies do not need to be sanitised on a regular basis. If you need to use bleach (or another sanitising method) as part of your normal wash routine to control stink and/or rash issues, it probably means the nappies aren't getting fully clean and you could benefit from troubleshooting help via our Facebook group, Fluff Love & CD Science.
Sanitising
Available Products
Bleach
In Australia, Woolworths and Safeway supermarkets stock a thick concentrated bleach called White King Multipurpose Power Cleaner. This is 5.25% Sodium Hypochlorite and is suitable for the bleach soak. It's in a 1L bottle and can be found in the floor cleaning aisle, not with the laundry bleaches but with the Domestos. This product comes in plain and lemon scented versions and both are fine to use.
If you are a Costco member, Costco sells White King Ultra Strength bleach and this is also suitable.
In New Zealand, Power Cleaner bleach is available at Countdown Supermarkets under the brand name Janola Power Cleaner.
Quaternary Disinfectants
In Australia and New Zealand, quaternary disinfectants are labelled and sold for laundry use. These are similar to disinfecting products used in the medical and food service industries in the US and EU, but Australia and NZ sell these products specifically for laundry.
Canesten Hygiene Laundry Rinse is available in supermarkets including Coles, Woolworths and IGA in Australia and Countdown and Pak 'n Save in NZ. Nappies are much more heavily soiled than regular laundry, so the recommendations on the Canesten bottle won't effectively sanitise your nappies, however a 30 minute bathtub soak will work. Use 1L of Canesten to a half bath of cold water. For smaller containers, use 1/4 cup of Canesten to 5L of water. Rinse on hot after soaking and follow with a regular wash cycle with detergent.  For the two week follow up after a yeast infection add 2 cups of Canesten Rinse to your main wash in the fabric softener compartment.
Sanitise Cycle
Most newer washing machines offer the option of a 90 or 95 degree wash cycle, known overseas as a sanitise cycle. This can be used to sanitise nappies, as discussed in How To Sanitise Without Bleach. You will need at least ten minutes of contact with hot water to properly sanitise, so a quick wash cycle may be used as long as it holds the water for at least 10 minutes of agitation.
Washing Machines and Detergents
HE or not?
In Australia and NZ our domestic front loaders are all High Efficiency (HE), although they may not be labelled as such.
HE top loaders are still relatively uncommon in Australia. Fisher & Paykel and LG make hybrid top loaders that enable you to choose between auto load sensing, an HE feature, or selecting your water fill level to make stew. Either method will work, just follow the directions for standard machines or  HE machines.
Detergents in our region may not carry the HE symbol, however they will be clearly labelled For Front Loaders, For Top Loaders or For Front And Top Loaders. For HE top loaders, you should use Front Loader detergent as it's formulated to create fewer suds in high efficiency machines.
HE top loaders are increasing in popularity in NZ however they are simply known as 'top loaders without agitators'. Many users aren't aware that Front Loader detergent should be used in these machines.
Detergents
The most effective detergents for nappies in Australia are Biozet Attack (without fabric softener) and Omo. For New Zealand the most effective is Unilever's Omo equivalent, Persil. Any mainstream detergent will also work, eg. Radiant, Dynamo, Fab, Cold Power, Drive. The exceptions are variants with added fabric softener, eg. Pink Biozet Attack, Surf 2 in 1 and Cold Power Touch of Cuddly. Powder and liquid detergents work equally well for nappies although powder is recommended in hard water areas.
The best 'natural' or plant based option for this region is Earthwise Laundry Powder or Laundry Liquid from NZ, sold at Woolworths in Australia. Eco Store is another good option.  The plant based directions should be followed.
The best Sensitive detergents for nappies are Dynamo Sensitive and Cold Power Sensitive Touch. Omo/Persil Sensitive is prone to oversuds so it's not ideal for soft water and/or front loaders. The Free and Clear directions should be followed for all Sensitive detergents.
Many retailers suggest "cloth safe" detergents such as Charlie's Soap, Eco Laundry Egg, or Soap Nuts. These detergents are all ineffective at cleaning heavily soiled laundry such as cloth diapers, and should be avoided. For more information, check out What's In My Detergent?.
Briar's Washing Powder is also not recommended. This powder contains 2 ingredients: sodium carbonate and sodium percarbonate.
Sodium carbonate is otherwise known as washing soda or soda ash. It comes in various grain sizes (i.e. crystals, powder) which will influence how much by volume is required for equivalent results. Sodium carbonate has a very high pH (between 11 and 12). One use of sodium carbonate is a precipitating water softener, as it binds with calcium and magnesium (both 2+ cations) in the water and forms a solid which rinses out with the spin cycle. However, most water in Australia and NZ is soft so the sodium carbonate isn't lost to the precipitation reaction. Therefore the addition of sodium carbonate to soft water creates a caustic solution. This high pH is what enables washing soda to clean laundry; alkaline solutions are able to loosen non-mineral buildup (i.e. dirt, poo).
Sodium percarbonate in water breaks down to sodium carbonate (washing soda) and hydrogen peroxide. This reaction requires high heat unless an activator is added (like it is in Napisan). Hydrogen peroxide provides mild disinfection and bleaching action.
The main concern with this washing powder is when it is used as a soak for problem solving. A concentrated Briar's solution is very caustic and is very hard on fabric. If it is not adequately rinsed, the very high pH has the capacity to cause burns, much like Charlie's Soap.
Here are the reasons we don't recommend Briar's washing powder
It does not contain detergent (surfactants), so it cannot effectively bind and rinse away soils that were loosened by the alkaline nature of the solution created, which leaves the user with stinky nappies. This is further exacerbated if the mum has hard water. The sodium carbonate is used up in softening the water instead of loosening the soils to be washed way.
It produces a high pH caustic solution when mixed with water. There are no ingredients in this product to balance the pH so your bub isn't burned by the solution.
Wash Temperature
Most washing machines in this region allow you to choose cycle heat in degrees Celsius. 30C is considered a cold wash, 40C is warm, 60C is hot and 90C is extra hot. 90C is not recommended for washing nappies on a regular basis. A single 90C cycle may be used in place of a bleach soak if needed, and washing at 90C for the duration of treatment of a yeast infection is acceptable.
Water Hardness
Most Australian capital cities have soft water, with the exceptions of Adelaide, Brisbane and some areas of Perth depending on supply and season. If you live in Canberra, Melbourne, Sydney, Hobart or Darwin, you probably don't need to add a water softener to your laundry, unless you are using a plant based detergent. It's recommended to contact your water provider for an indication of your water hardness and the info may also be available online. Try Googling your town name and "water hardness" or you can search your local council's website for the Drinking Water Quality section. You can test your water hardness with a test strip, available from eBay, Bunnings, a pool supply shop or a pet shop in the aquarium section.
The majority of New Zealand waters are considered to be soft. Check your local council's website or use a test strip before setting up your wash routine. Test strips can be hard to find in NZ so call ahead to the hardware shop, pool shop or pet shop first, or you can try the internet.
Rash Creams
The most popular nappy rash creams in Australia are Bepanthen Nappy Ointment (made by Bayer) and Sudocream (made by Forest Tosara Ltd,  Ireland). Both creams repel moisture and should be used with a liner.
The majority of the recommended creams on our diaper creams page are available in Australia and New Zealand through online nappy stores. CJ's Butter is popular in our region and is fine to use.
Coconut oil works well as a mild barrier, moisturiser and rash preventative. It's sold in all major supermarkets in the health food and Asian cooking sections.
Stain Removal
Cloth nappy stores and manufacturers often advise customers to avoid oxygen bleach stain removers like Sard and Napisan; however Fluff Love is a science based group and based on empirically valid evidence we can happily recommend these boosters for all kinds of nappies. Our top pick is Napisan Crystal White OxiAction (white tub). The pink tub version is also fine to use for stain removal but it doesn't contain enzymes, which are helpful in breaking down proteins (poo). You can use Crystal White Napisan as a spot stain remover per the package directions, or sprinkle it on your wet rinsed poo nappies before placing them in the pail or wet bag to kick start the process of breaking down fecal matter, or add 2/3 cap to your main wash to help prevent stains.
Traditional Flats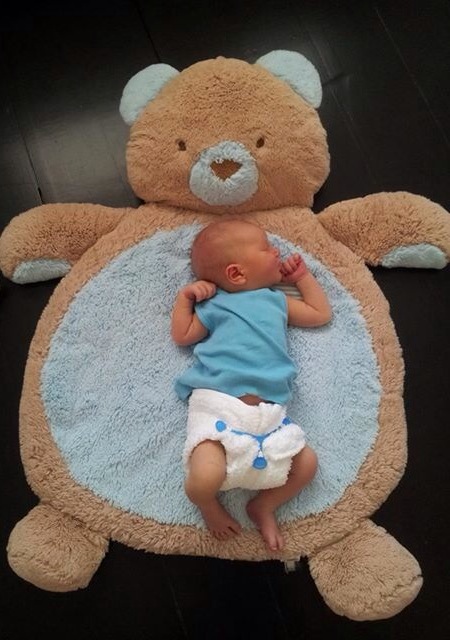 We love our traditional flat nappies down under. Flats are cheap, easy to wash and quick to dry. The most popular brands of terry toweling flats are Dickies, Big Softies and 4BABY. These brands can be purchased from Big W, Kmart and most baby stores. Occasionally, Target will stock both terry toweling and flannel flats. You can also buy flannel from fabric shops such as Spotlight and Lincraft and hem it yourself after you have cut it to size. The wash directions for flats are the same as for modern cloth nappies.
Popular folds for flats include the Origami fold, Kite fold and Jo Fold. You can find video tutorials for these folds on YouTube. You can prevent 'poosplosions' by 'jellyrolling' (tucking in) the legs before you pin or Snappi the flat. You can buy traditional nappy pins from Big W, Kmart and baby shops. You can buy genuine Snappis on eBay and occasionally from baby shops. You can also buy generic brand Snappis from Big W and Kmart.
Flour sack towels are sadly unavailable in Australia and there is no equivalent tea towel with the same large dimensions, low cost and trimness. IKEA sells a 70x70cm cotton muslin baby wrap (Vandring) that is highly absorbent and suitable for pad folding and snappied folds. $5.99 for a pack of 2. Many Fluff Love members in the USA use flannel receiving blankets as inserts and flats. In Australia these are known as bunny rugs or wraps. Keep in mind that the sizes are quite different, with receiving blankets averaging 70x70cm. Our wraps are usually around 100x110cm and will be much bulkier when folded.
If you buy pre-loved terry flats, be prepared to strip and bleach soak before use. Because they're traditional nappies they're often washed the way Nan used to do it and this involves wet pails, Lux soap flakes and synthetic fabric softeners. These are a major source of buildup, repelling, bacterial contamination and rashes. Once you have cleaned up the terries and implemented a good wash routine you can add a plant based fabric softener like Eco Store, Earth Choice or Earthwise to your wash routine for fluffiness.
Fleece liners
To make stay-dry liners, buy half metre of microfleece from Lincraft or Spotlight. Look for the term 'micro fleece' on the end of the cardboard roll (not polar, anti-pill, or coral fleece). Wash and cut into 14x33cm strips. No sewing required.
Bins, bags and buckets
Because the climate in Australia is generally hot and humid, attention must be paid to the wash pail and the prevention of mould in summer and the wet season. This doesn't mean you have to wash daily as is often suggested, however you will need to take precautions. Airflow around the fabrics in the dry pail is crucial, so store used nappies in an unlined laundry hamper with holes rather than a lidded nappy bucket. Wet bags are okay as long as they're kept zipped so mould spores can't get in. Avoid putting anything in the pail that has baby food on it, including facewashers and clothes. If you do find mould on your nappies on wash day, you'll need to follow the steps outlined in the mould, mildew and bugs file. Mould may persist after the bleach soak so if the marks don't vanish continue on to Step 2, using Napisan in place of Oxiclean. For Step 3, follow the Clorox directions but substitute Power Cleaner for the bleaches mentioned on the Clorox page.
Businesses We Love
Nappy Mojo – cloth nappy rental service, New Zealand.  nappymojo.co.nz
We look forward to adding many more nappy stores, organisations and manufacturers from Down Under.