Home >> Special Circumstances >> Overnight Diapering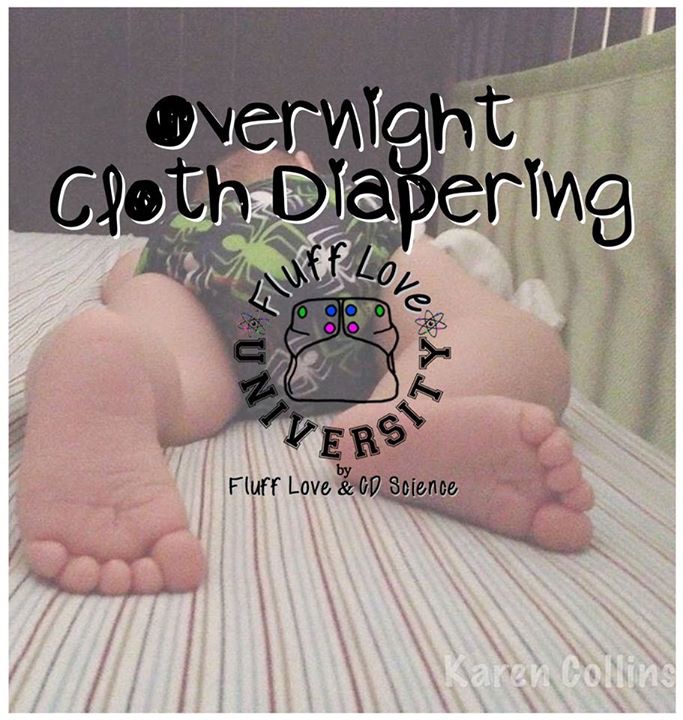 Almost daily on the Fluff Love and CD Science Facebook group, people ask about good overnight options. As babies start sleeping for longer stretches, the hunt begins for a diaper that can hold up for 8 – 12 hours overnight without leaking.
A word about younger babies – newborns have very sensitive skin and also frequently have bowel movements overnight. For this reason, we don't recommend going more than a few hours without changing a newborn. However, once the baby is a few months old, he or she can usually make it through the night without a change.
Option 1: Whatever you use in the daytime
Some people find that their normal daytime diapers work well overnight. If this is the case for you, great! No need to do anything special for overnight.
Option 2: Pocket diapers
Pocket diapers are a shell that can be stuffed with almost any type of insert. Some people are able to use pocket diapers for overnight by stuffing with extra inserts or with their most absorbent inserts. Some options for stuffing pocket diapers include microfiber, bamboo, or hemp inserts; prefolds, flats, or flour sack towels. Many people will try to mix a couple of different fibers. For example, microfiber absorbs quickly (good for babies who suddenly "flood" a diaper) and hemp absorbs a large amount slowly – so using one hemp and one microfiber insert can be a good combination. Flats, especially those made out of hemp or bamboo, are one of the most absorbent options for stuffing pocket diapers.
One popular brand of pocket diapers for overnight use is Kawaii Heavy Wetters. These come with thick inserts and have an extra large pocket for stuffing.
Pocket diapers have two main flaws for overnight use. The first problem is that the absorbency is centered in the "wet zone" or crotch of the diapers. However, many older babies prefer to sleep on their tummies or sides, and these babies need absorbency around their hips as well. The second problem with using pocket diapers for overnight is that sometimes, stuffing enough absorbency into the pocket can cause the leg holes to gape, leading to leaks. If pockets or AIO diapers aren't cutting it for overnight, the next option is a flat or fitted diaper.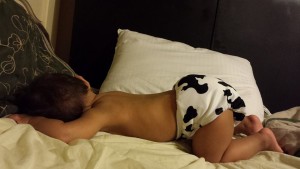 Option 3: Fitteds
Fitted diapers are many people's go-to choice for overnight. A fitted diaper is made of absorbent material all the way around, so it catches leaks from tummy or side sleepers. And since the whole diaper is absorbent, a fitted can hold a lot of liquid.
Fitteds can be made from cotton, bamboo, or hemp fabrics. There are many, many types of fitteds, and the cost ranges wildly. Green Mountain Diapers workhorse fitteds are a less expensive option ($5.50 for the NB size) that work great for newborns and younger babies, but may not have the absorbency for overnights for older babies. A good midrange option is Pooter's hemp fitted diapers ($16). The hemp fitted holds 18 ounces of liquid. There are many popular brands of fitteds in the high range end, including Sustainablebabyish (SBish), Goodmamas, Bububebe, Tots Bots Bamboozles, and many more.
Fitteds require a cover to be fully waterproof (see below).
Option 4: Flats
Flat diapers are many people think of when they think of old school diaper options. A flat diaper is just a large square or rectangle of fabric that is folded around the baby. Like fitteds, a flat can be folded to offer absorbency around the hips and belly, making it a great choice for overnights. It can take a little while to learn how to fold a flat, but with a little practice, it's not hard. One popular way to fold a flat for overnight use is the kite fold. A flat fold needs to be secured, You can use old school diaper pins, but most people prefer modern fasteners like a Snappi or Boingo. While traveling, I once used a couple of paperclips borrowed from the hotel front desk to secure an overnight flat, with total success.
For overnight use with older babies, some people find that they need to double up two flats. Simply lay one flat on top of the other and fold as normal.
Like fitteds, flats are commonly made from cotton, hemp, or bamboo. Some popular brands include Green Mountain Diapers, Nicki's, Hemp Babies, and many more. Additionally, any large square of fabric can be used as a flat. Flour sack towels cost $5 for a five pack in the dish towel section of Wal-Mart or Target, and make great flats. You can also easily use an old receiving blanket as a flat.
Covers
Fitted and flat diapers need some kind of waterproof cover, especially for overnight use. Diaper covers are generally made from PUL, wool, or fleece.
PUL Covers: A PUL cover is a thin waterproof shell that goes over a flat, fitted, or prefold diaper. The cover doesn't have any absorbency, but it keeps liquids contained. Covers range is cost from about $3.80 for a brand like Alva, to $12 for a Thirsties cover, to $17 for a Blueberry Coverall. You can also use an unstuffed pocket shell as a diaper cover.
Wool: For many people, wool is the most reliable choice for an overnight cover. Wool works by repelling moisture into the fitted diaper underneath it. When the diaper is full, wool will absorb up to 30% of its own weight in moisture. Lanolin, a byproduct of wool, has to applied to the wool periodically to make the cover waterproof. The lanolin also chemically reacts to neutralize the urine in the cover. As a result, wool only needs to be washed every 2 – 4 weeks. Check out our wool care page for more info.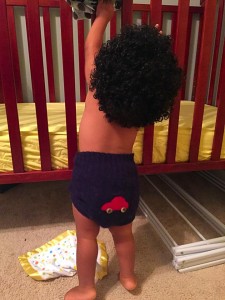 Wool is often made into soakers (a pull on cover), shorties (short pants), or longies (long pants). Wool can wick if covered with cotton, so many people use wool shorties or longies as pajama bottoms, or use fleece pajamas over.
Fleece: Fleece diaper covers are also waterproof. Unlike most wool covers, fleece can be thrown into the washing machine, making it a bit easier to care for. In addition to fleece covers, you can also buy fleece shorties or longies. Fleece is often very inexpensive, and if you know how to sew, there are many patterns online for simple fleece covers.
Inserts and doublers If you want to boost the absorbency of overnight diapers, consider adding extra inserts or doublers into the diaper. Most inserts can go directly against the baby's skin. The one exception is microfiber, which can cause serious rashes if placed directly against skin.
Fleece liners help the baby feel dry overnight. You can make your own fleece liners by buying fleece at the fabric store and cutting it into rectangles. Fleece won't fray, so there's no need to hem it.
Washing overnight diapers
Having a good wash routine is especially important with overnight diapers. Overnight diapers are often the first diapers to show flaws in a wash routine. They're exposed to large amounts of urine for long stretches of time. Additionally, the diaper may be urinated in, dry, and then be urinated on again, allowing ammonia crystals to be deposited and reactivated.
Overnight diapers shouldn't smell strongly of ammonia, recognizable by that "burn your nose hairs" smell. However, especially among older babies and toddlers, it's normal for overnight diapers to smell like urine. If a preschooler had an accident in his pajamas at 9 p.m., you would expect there to be an odor on the pajamas and bed sheets at 7 the next morning. A similar odor is okay on the diapers. Some parents find it helpful to rinse out overnight diapers in hot water first thing in the morning.
Some Fluff Love admin overnight favorites:
Jen B.: Pooters hemp fitted under a Disana wool cover, with a GMD stay dry hemp/fleece doubler inside.
Heather: Fitteds under wool
Rebecca: Twinkie tush night nights under wool, fleece or PUL.
Kelsie: Tots Bots V4 AIO with snap in booster.
Laura: Alva fitted, bamboo snake booster, fleece liner under a Truly Charis interlock wool soaker or Hoppy Frog fleece pants.
Eileen: Wonderful bambinos with a cbi insert and a pul cover.
Kinsey: Wonderful Bambinos with a CBI inside for stay-dry and absorbency boost, with a Hoppy Frog fleece longies as the cover
Jessica: GMD flat with hemp doubler under Grovia shell or a tuckable cover.
Darcy: Alva pocket with double charcoal bamboo inserts