Home >> Fluff Love Community >> FLCDS Community Outreach >> Shannon Unka – Nappy Mojo

Shannon Unka has been our New Zealand and Australia correspondent for some time. She assisted in creating our "Cloth Down Under" page, here on FLU, and being a strong voice for clean cloth in her part of the world. Down Under is uncharted territory for Fluff Love's clean cloth philosophy and Shannon has been a pioneer in this work spreading the message. Although she comes under fire from the community there for her "radical" ideals, Shannon knows that all babies deserve clean cloth and presses onward.
Her business provides clean cloth by way of rental to all families in New Zealand. Please help us support Shannon by visiting the Nappy Mojo website .
If you reside in New Zealand or Australia, get involved in the movement! Contact the Australian Nappy Association today and urge them to review our science!
You can also visit our Cloth Down Under page.
In her own words:
"We are NappyMojo- The New Zealand Cloth Nappy Hire Specialists. We specialise in brand new cloth nappy hire for newborns.  Servicing all of New Zealand with free delivery, we make using and loving cloth nappies easy, fun and way cheaper than disposables. All our hire packs are made up of brand new nappies, all the accessories you need, comes with simple advice and 7 day a week phone/email support.
NappyMojo is a husband and wife team, born through our love for our daughter and our love of cloth nappies. Although we wish we were super parents teaching baby sign language, eating a pure Paleo diet and re-upholstering vintage furniture in our spare time, we are just normal parents; doing our best and enjoying each messy imperfect moment. I am Shannon, a Neonatal Nurse and a Mum. He is Manesh, a Construction Project Manager by day, great with excel spreadsheets and singing Humpty Dumpty by night. And Nina is just Nina, and she's got Mojo by the bucketload!
Through our own cloth nappy experience, we have seen the need for an affordable and simple way to have a ball using brand new cloth nappies on brand new babies, without all the mistakes, without all the researching. We want to use these first three months to show you all you need to know about cloth nappies so you can make your own choices… Our dream is to get more bums into cloth nappies.
Cloth is my passion and healthy babies are my priority so I feel good about my stance even if many others are against it. The great thing abut my business is that with rentals my customers can use mainstream detergents and not worry about their warrantys because I take responsibility. I'd rather my nappies were returned clean and then sanitised properly by me, than being returned smelly, not be sanitised and still be in warranty."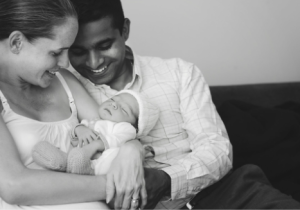 Why spreading the Fluff Love worldwide is so important:
ANASTASIA MICHAILOV , SA, Australia 
"I bought some second hand nappies and needed to sanitise them for my second baby, I happened to come across the Fluff Love and CD Science website just as they arrived. The information made complete sense, I stripped and bleached the second hand ones and was confident that they were hygienic. I also changed my wash routine, the nappies for my oldest were so clean now! They didn't smell musty anymore. I wish I came across the Fluff Love and CD science website when I first started using cloth nappies, I would have saved myself time, money and energy. Cloth nappies aren't fragile porcelain, using them doesn't need to be complicated. More parents would choose to use them if they realised how easy it could be!"
MEAGAN RHOOK, WA, Australia: " My partner and I knew we wanted to cloth our first Bub all along, I started looking into it and found myself in a whole new confusing world with so many opinions of what's right, what's not right…
Then I found FLCDS and the world made sense!
I've had my little girl in cloth for 5 weeks now and have been following my custom wash routine that was made by the lovely admins. My nappies come out smelling amazing and spotless every time! I've recommends them to all my friends who are looking into cloth!"
ZARA JANE, NSW, Australia: "Fluff love is amazing! Without the help from the admins and members on the page, I would be lost. We've just started our journey and can't wait to continue it. Now that I know the correct way to maintain and care for my nappies and that they don't need to cost an arm and leg makes me even more excited haha. Also the fact that thanks to using cloth nappies, means I'm creating less rubbish for future generations like my daughter is a plus the amazing ladies have helped me convince my partner that cloth nappies are actually cheaper in the long run than disposables"
NAT TOBIN, retailer, Bubeez Modern Cloth Nappies, QLD, Australia: ". As a Cloth Nappy Business owner in Australia, discovering Fluff Love was a blessing! I LOVE their wash routines and easy honest approach to sustainable living and care for your cloth nappies! I am proud to bring their wash routines to my business (Bubeez) I have also directed many of my customers over to the Fluff Love way of caring for your nappies and have had positive feedback!! Bubeez Modern Cloth nappies is Gold Coast's only cloth nappy brick and mortar store where you can see, feel and touch cloth nappies and be educated the Fluff Love way of caring for your nappies. Always spreading the Fluff Love to Bubeez Cloth Nappy Mummas! xx