Table of Contents
HE Wash Routines
Now that you know a bit more about how your HE machine works, let's talk about what your wash routine is going to look like. We recommend a two cycle wash routine, and the majority of HE machines are no different. We recommend a "prewash" cycle that removes the bulk of the soil, and then a "main wash" cycle that deep cleans multilayered diaper materials so they are completely clean out of the wash every single time. Be sure to look up your washer in the washing machine index to check the recommended cycles for your specific washer. The recommended cycles listed there are based on analysis of each machine's owner's manual and our experiences troubleshooting in our Facebook group. Here is a general guide for how to pick a starting point for your wash routine. **NOTE: If you own a Kenmore Oasis, Whirlpool Calypso, Whirlpool Cabrio, Maytag Bravos, or Maytag Centennial HE please see our page for these specific machines.
PREWASH: for front loaders and horizontal axis machines, choose "speed wash," "quick wash," or "express wash." You want a shorter cycle that is at least 30-45 minutes long to remove the surface soil so the main wash can be done with clean water. In the absence of a "speed" cycle, use the shortest normal cycle. Many HE top loaders need a "normal" or "cottons" cycle for the prewash because heavy soiled diapers do not agitate as easily without the tumbling action of a front loader. Always choose the highest soil and spin that you can select for the cycle, and turn off any extra rinses or prewash buttons that may come on. Generally speaking, for your prewash we recommend adding a small amount of detergent and water softener if your water hardness calls for it. Your prewash can be just dirty diapers.
MAIN WASH: Your main wash cycle is the cycle that deep cleans the diapers, getting to all of the layers of the fabric. Before starting your main wash cycle, be sure to open up the washer, peel everything off the drum and fluff it up. Add other smaller laundry until the washer is 2/3-3/4 full of laundry for front loaders and horizontal axis machines. For HE top loading machines be sure to check the washing machine index for the optimal loading level for your specific machine. Avoid adding anything larger than a flat or a receiving blanket, as large items can wrap around the diapers and prevent agitation.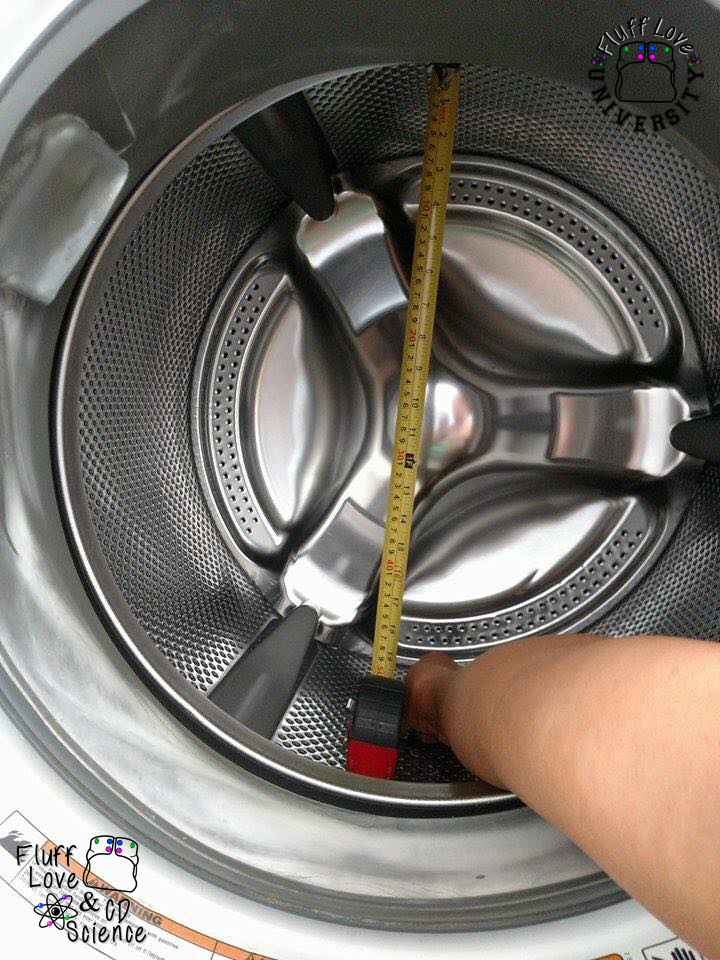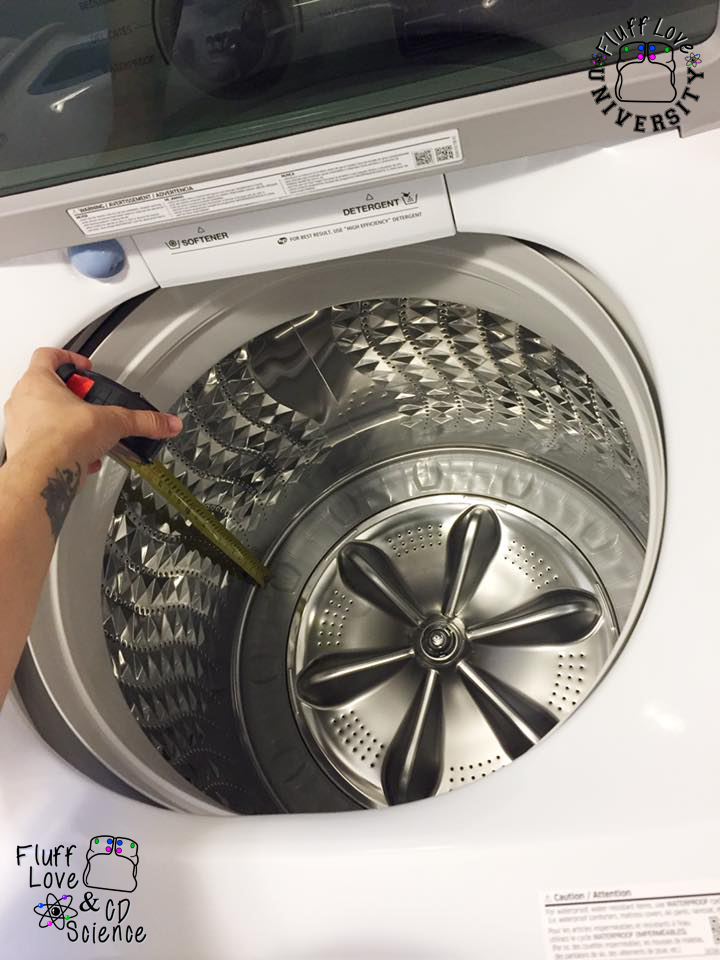 Example of how to measure the drum of an HE front loading machine (top) and an HE top loading machine (bottom).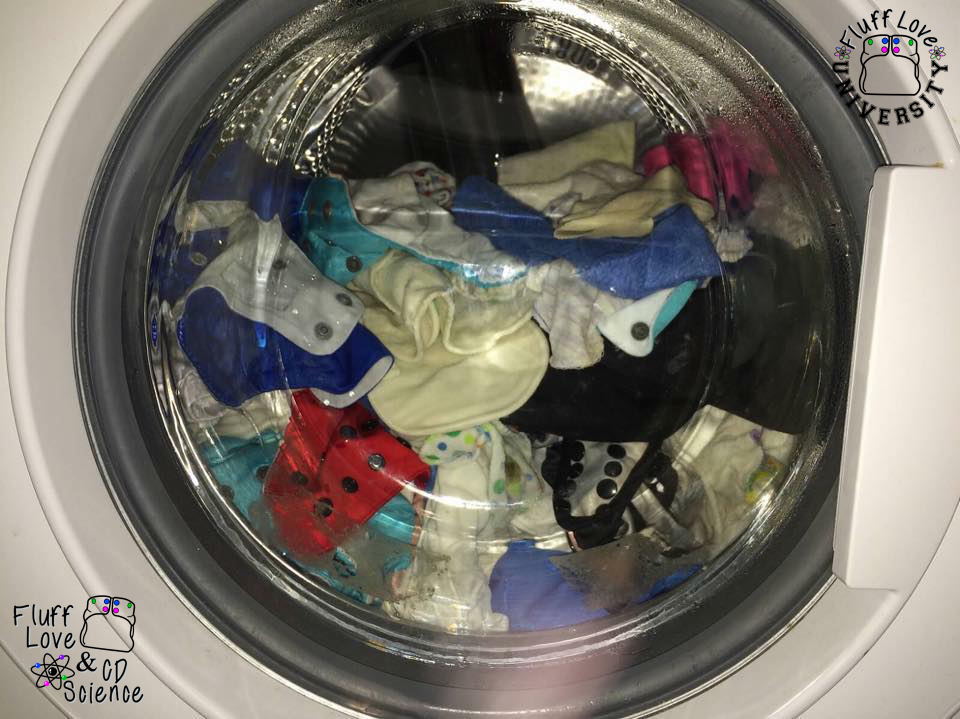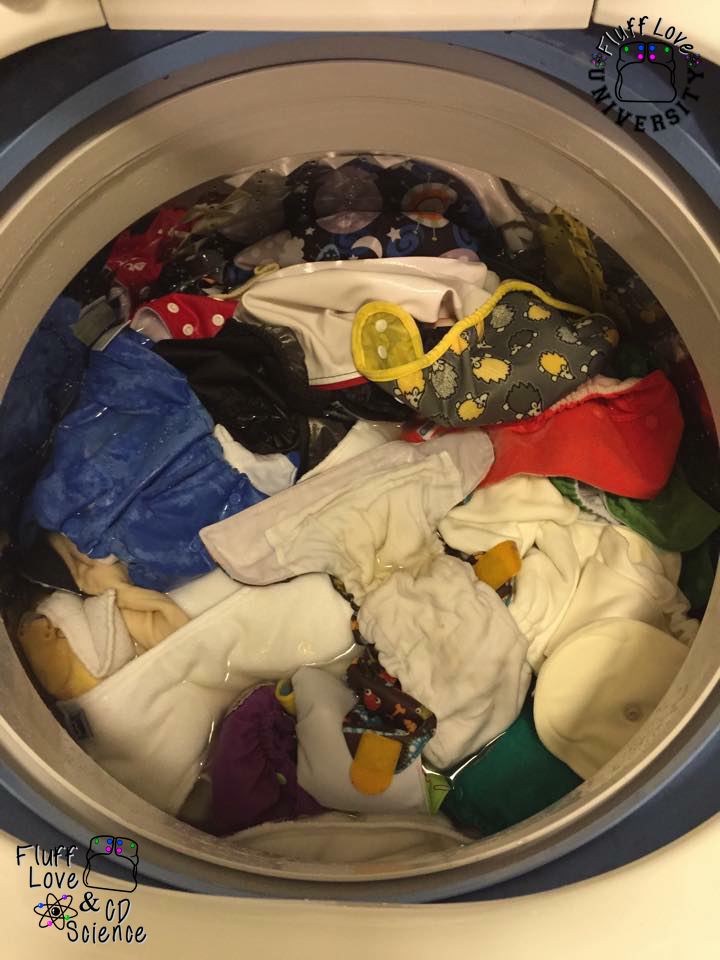 Example of an HE front loader at it's minimum 2/3 full (top) and a Samsung HE top loader at it's minimum 3/4 full (bottom).
You want to choose your washer's longest cycle with the strongest agitation. "Heavy duty," "whites," and "power wash" are the most commonly recommended options. In the absence of a heavy duty or intensive cycle, choose the longest "normal" or "cottons" cycle. Some "whites" cycles add an extra rinse that cannot be turned off, so be sure to consult your owner's manual or the washing machine index. Some machines also offer a "cottons/towels" cycle. This should be avoided as it is most similar to a "bulky" or "sheets" cycle, which means a lot of water and not a lot of agitation. Always choose the highest soil and spin, and turn off any automatically selected extra rinse and prewash settings. If you have a stain treatment or other "boost" button, you may want to select it, again as long as it doesn't add extra rinses. Usually, the stain treatment option adds a short soak and some extra agitation, which is beneficial. For your main wash, add the recommended full amount of detergent, and water softener if your water hardness calls for it.