Finding out you're having twins is an exciting and slightly frightening thing. You go in for your appointment expecting to be just a regular pregnant woman and walk out with a lot of feelings and thoughts you weren't prepared for. One of the first things that went through my head, after the initial shock, was how much everything would cost. There are so many things you now need double of, including diapers.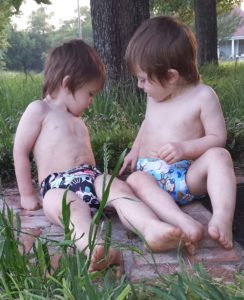 Cloth diapers are a great solution for reducing some of the cost of having multiples! I haven't always used cloth with my twins, I wasn't confident in my ability to keep up with the diaper laundry in the early days. As soon as I felt like I could keep up, I jumped right in. I have had a fairly conservative diaper stash for the twins and tend to keep just enough diapers to wash every other day. I'd like to wash less but this is the amount my washing machine holds.
In my regular rotation I have about 2 dozen prefolds (I big puffy heart Nicki's prefolds) and about 15 FSTs. I also have about a dozen covers and 2 pocket shells. This has been my stash for most of the last couple of years. Just in the last couple of months I added some Best Bottoms Ai2 for going out and about and Gray Star Boutique hybrid fitteds for overnight diapers.
Switching to using only flats wasn't a huge deal for me since I already used them on a regular basis. The idea of hand washing was a little daunting though. I go through about 10-15 diapers a day and I wasn't looking forward to washing all those every day. I've actually found that I'm really enjoying hand washing, it's relaxing in much the same way exercise can be. It's time I get on my own, using my hands to do something useful. It's a huge bonus that it can also double as exercise since I'm wanting to exercise more.