This is the review for the awesome bag being given away in our Facebook Group 50,000 member celebration Giveaway!
When I was younger my mom used to wash my dad's baseball caps in the dishwasher. That always weirded me out when she did a load of them. But, I will say this- they were the cleanest I've ever seen a baseball cap prior to the creation of our sister Facebook group Laundry Love & Science and you magical sorceresses started using RLR and deep cleaning everything.
Well for those of you who are like me and don't have the patience for these things, no matter how rewarding the outcome, I have great news about this week's bag. The Holly Aiken Bomber Tote is DISHWASHER SAFE! Why does this excite me? Have you ever had a toddler pour milk all over your bag? I have. Let me tell you, that smell does not go away without a deep clean. I wish when Leo had done that, it had been in this bag. My life would have been a million times easier.
Another awesome thing about this bag I feel I need to mention, aside from the fact that it is vegan and made from super duty antimicrobial vinyl; all Holly Aiken bags are made in North Carolina. Yup, USA made. Also, they are fully customizable and you can pick your own patterns and color scheme if you don't find one you love.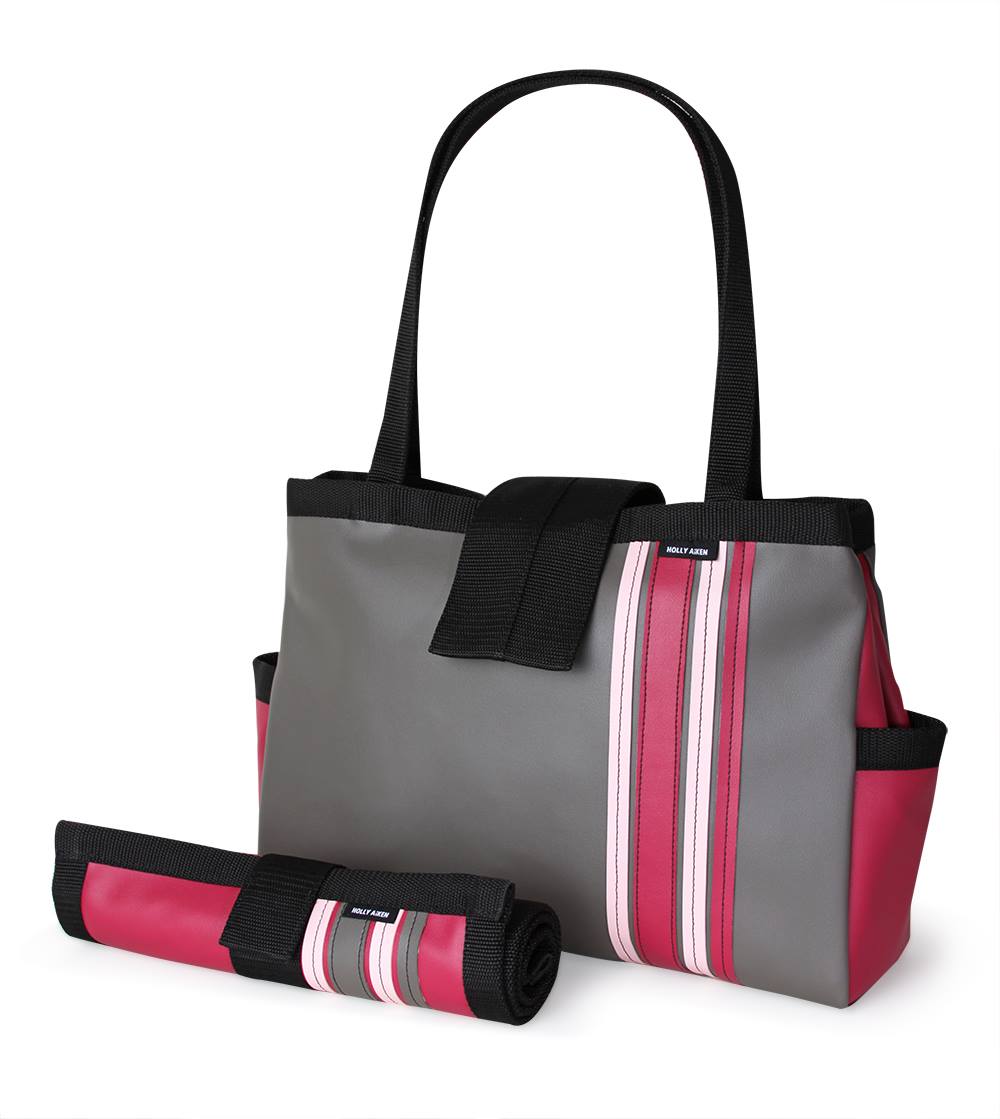 On this week's packing list:
6 diaper changes (2 covers, 6 soaker pads)
changing pad (included)
wet/dry bag
diaper cream
first aid kit
wipes
bib
spoon
food jar
sippy cup
mom's water bottle
pacifier pocket
blankie
toys
board book
sunglasses
makeup bag
wallet
shopping bag
cell phone
I'm starting to see why people like tote bags. It's nice to be able to just reach in and grab something on the go without fussing with zippers. This bag has a velcro strap on the top so it provides easy access to the contents. Inside, the bag features a very roomy main compartment with 2 large pockets and 2 small ones.
The Large pockets are really deep! They can easily fit my wallet standing up sideways or even a board book.
I actually ended up using one of the smaller pockets for my book, but I love that if I wanted to, I could stick it somewhere else. Sharing the pocket with the book are the first aid kit and blanket. In the other smaller pocket are my wipes and ointment. I like keeping those as handy as possible.
I opted to put my water bottle and sippy cup inside of the bag this week to really show how much you can get inside of this bag. I'm not sure if you can see the sippy underneath the food jar, but it's there! It fit!
Last but not least, the changing pad fits right on the top.
The sides of the bag can be snapped together or left unsnapped for a little more room. I snapped them up to tuck it in a little bit, but like that when they're unsnapped there's room for a few more toys or snacks.

Here's a side view of the bag packed and snapped. It expands quite a bit when fully stuffed but remains gorgeous and still very stylish. the side pockets can fit bottles, but since we no longer use them, I opted to use them as a phone holder.
All in all, I think this is a great little bag. I overstuffed it with 6 changes- normally I'll pack 3 or 4, but I wanted to add the extra for you to see how much you can really fit in here. Would you like a chance to win this bag? If so, head on over to our Facebook group, Fluff Love & CD Science. We're just about to kick off our 50k giveaway for our FIFTY THOUSAND members and this is one of the awesome prizes included.
Also, if you're ever in the area, be sure to check out Holly Aiken's store and workshop, Stitch, in Raleigh, NC.